PoLAAT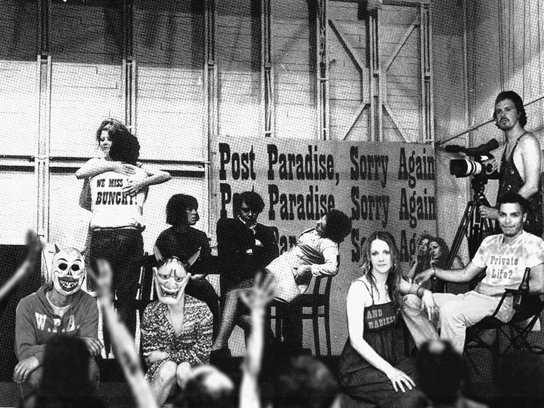 In 2008, during a residency at the New Museum, My Barbarian developed the Post-Living Ante-Action Theater (PoLAAT). The project was envisioned as a pedagogical model and (self-consciously) codified technique that would become a way to work with a large group of artists in creating a theatrical process of artistic collaboration as about grappling with the history of radical leftist theatrical and artistic production.
Using historical models such as the Living Theater, Fassbinder's anti-theater, and Theater of the Oppressed, the PoLAAT workshop facilitates group-building, cultural exchange and political critique through imaginative reenactments.




After its initial production at the New Museum, the PoLAAT has been performed with different interdisciplinary groups of participants in Galleria Civica di Arte Contemporaneo, Trento, Italy, Townhouse Gallery / Rawabet Theatre, Cairo, Egypt, 2008; Contemporary Art Center, Vilnius, Lithuania, Museum of Contemporary Art, Miami, Florida 2009; El Matadero and ARCO, Madrid, Spain, 2010; and American Repertory Theater, Harvard University, Cambridge, Massachusetts, USA, 2010. In 2012, My Barbarian received a Creative Capital grant to make PoLAAT performances in Israel and to re-unite the group in Cairo in a series of workshops.