ARTFORUM
500 Words: My Barbarian
APRIL 2015

Making fun may be our best strategy for survival. Or at least the best way to stay cool in the heat of the in-between, the space of interruption where My Barbarian does their most incisive work. Here the notorious collective—founded in 2000 by Malik Gaines, Jade Gordon, and Alexandro Segade—talks about "Double Agency," a multipart, multimedia project built on and around the Los Angeles County Museum of Art for the institution's fiftieth anniversary this month. (READ MORE)


---


ARTFCITY
The 2015 Armory Show is Legit Awesome
MARCH 2015

"I love these! I want them! They're gone," Kevin Scholl, a gallery director mentioned regarding a pair of puppets by the performance troupe My Barbarian. "Kurt" and "Margit," [are] curiously wrought props from a 2015 performance ... As the week progresses, the gallery plans to bring out more My Barbarian puppets to relieve Kurt and Margit. (READ MORE)



---


ARTFORUM.COM
My Barbarian, Counterpublicity
DECEMBER 2014

My Barbarian's Counterpublicity is a staged video performance based on an essay about Pedro Zamora, AIDS activist and star of the Real World: San Francisco, written by José Esteban Muñoz in his book Disidentifications. (READ MORE)


---


EDIE AND ANDY BLOG
Universal Declaration of Infantile Anxiety Situations Reflected in the Creative Impulse: My Barbarian at Gallery 400
OCTOBER 2014

The success of the performance lies in the liberties My Barbarian took with their interpretation of the original. The performers play multiple characters in the story. Each takes a turn at playing the mother. Even the audience has a chance to perform the mother through call and response at the end of the performance. In this way My Barbarian suggests that all people have a "maternal instinct" and the place a mother may have in stirring revolution. Revolutions don't emerge from thin air – they are birthed, weaned, and grown. Through neutralizing costumes, the use of masks, and simplistic use of set design, My Barbarian is able to tell the story of revolution while simultaneously remarking upon the importance of the mother in nurturing social justice. (READ MORE)


---


ARTNET NEWS
An Unexpected Opera Performance at the CalArts Benefit in New York
APRIL 2014

Helping to bridge the gap between the two spaces was performance art collective My Barbarian (which you may recognize from its turn in the 2014 Whitney Biennial), who guided the crowd through the streets of Chelsea as part of their Broke Baroque Festive Operetta, a strange and comic experience involving, as you might imagine, a lot of opera singing, but also wigs, silver cloaks, and iPad screens. (READ MORE)


---


PERFORMA MAGAZINE
The Whitney Biennial: My Barbarian's The Mother
APRIL 2014

In The Mother, all three players rotate between a slew of primary and secondary roles, including revolutionaries, police officers, jail guards, a chef, and a factory foreman. A variety of melodramatic papier-mâché masks that recall classical Greek drama aid these transformations, and, when not in use, decorate the walls of the Whitney's lobby gallery. The comical, almost slapstick Marxist theater of The Mother recalls the long established style of the Bread and Puppet theater.(READ MORE)


---


ARTNET NEWS
Handicrafts Carry the Day at the 2014 Whitney Biennial
MARCH 2014

Wearing handcrafted masks, and standing on a triangular stage, the three players in My Barbarian (Malik Gaines, Jade Gordon, and Alexandro Segade) gave a spirited performance of their adaptation of modernist playwright Bertolt Brecht's play The Mother ... [Curator Anthony] Elms also liked the loose subject they proposed for the biennial. "We always talk about forefathers," he added, "and they were going to address motherhood." (READ MORE)



---


ART IN AMERICA
Modernist Mom: My Barbarian at the Whitney Biennial
MARCH 2014

My Barbarian's performance is largely faithful to its source text, and the group's deviations are good-naturedly playful and frequently hilarious. At one point they exhort teachers in attendance to "cry uncontrollably" if their students are wealthier than themselves, to "laugh uneasily" if less wealthy. Audience participation is thoughtfully worked into the narrative throughout. An audience member acts out the heroic death of the revolutionary Smilgin, and the performance ends with a rousing sing-along of the original song "Get Up Mom (Working Mother)." (READ MORE)


---


ART IN AMERICA
My Barbarian at Susanne Vielmetter Los Angeles Projects
OCTOBER 2013

In My Barbarian's recent exhibition, as on the analyst's couch, all roads pointed to one source: the mother. For "Universal Declaration of Infantile Anxiety Situations Reflected in the Creative Impulse," the Los Angeles-based collective—Malik Gaines, Jade Gordon and Alexandro Segade—created a provocative amalgam of maternal imagery ... While recurring images of mothers ostensibly link each of these segments, the video's varied styles and tones also defamiliarize traditional representations of motherhood, opening the way for new images of maternal care. (READ MORE)


---


BOMB MAGAZINE
My Barbarian By Andrea Fraser
FALL 2013

My Barbarian has brought tremendous energy, commitment, scholarship, invention, and an extraordinary range of talents, tools, and traditions to a project of developing a new model of critical practice at the intersection between the visual arts and the expanded fields of theater and performance. (READ MORE)


---


TEXTE ZUR KUNST
Working Mothers of Invention: Avigail Moss on My Barbarian at Susanne Vielmetter Projects Los Angeles
SEPTEMBER 2013

My Barbarian remind us that maternity has long ceased to be a question of biological (and perhaps even generational) essentialism. It is instead a fundamentally social contract, renewed in each act of (re-)inventing one's mother. (READ MORE)


---


ART IN AMERICA
Work It, Working Mother: L.A. Summer Performances
JULY 14, 2013

FLASH ART
My Barbarian by Patrick Steffen
JULY 18, 2012

My Barbarian, a happy and prolific trio consisting of Malik Gaines, Jade Gordon and Alexandro Segade, loves white papiermâché masks, Baroque theater, Greek muses, the Tarantella, queer theory, wigs and toupees, small-scale decorative items such as fake Roman vases and pseudo puppet theater. Their most recent site-specific installation, Broke People's Baroque Peoples' Theater at Human Resources Los Angeles, is a buffoonish meditation on excess in a capitalist economy. In it they transform a wideopen space into a pitiful emotional theater, where everything seems possible in the name of social and artistic justice. Read more.


LOS ANGELES TIMES
Culture Monster, Art Review: My Barbarian at Human Resources by Holly Myers
MARCH 8, 2012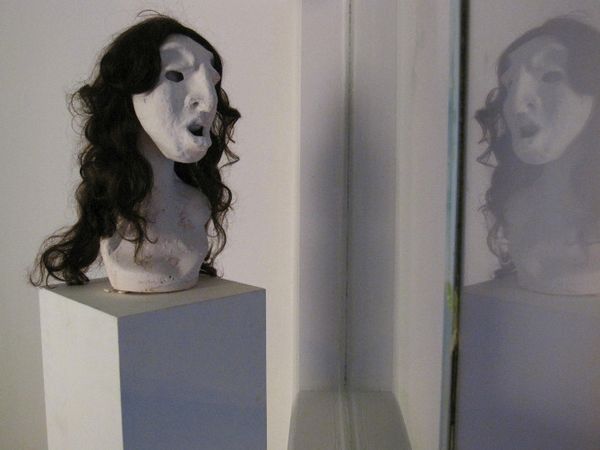 Much of what is unique, relevant and delightful about the performance collective My Barbarian is contained in the title of its current exhibition at Human Resources: "Broke People's Baroque Peoples' Theater." Say it out loud a few times — it's lovely on the tongue and only gets funnier the more you repeat it. Read more.


LA WEEKLY
How Do You Create a Fake Theater Troupe? Art Collective My Barbarian Pulls it Off at Human Resources by Catherine Wagley
MARCH 1, 2012




Opening night of My Barbarian's new show, Broke People's Baroque Peoples' Theater, artist Anna Sew Hoy rolled and writhed on the floor while a backup band played. She'd been selected from the audience along with at least 15 others, costumed in a togalike, patterned gown and given a card with a "personification" on it. Read more.


FANZINE
Inspirational Critique: a conversation with Malik Gaines and Alexandro Segade of My Barbarian by Jesi Khadivi
FEBRUARY 15, 2010

The L.A.-based artist collective My Barbarian has been creating kitsch-tinged site-specific plays, concerts, theatrical situations and video installations together for nearly ten years. Malik Gaines, Alexandro Segade, and Jade Gordon have combined their eclectic backgrounds in theater, theory, and contemporary art to create incisively intelligent work in a variety of media that encompasses references to mythology, social and political issues (both contemporary and historical), and popular culture with a sense of humor that is as biting as it is playful. Read more.


ART IN AMERICA
Participant Inc.: My Barbarian by Sarah Valdez
NOVEMBER 13, 2009




NEW YORK. "He's in. What's next?" "Looking down at your hands and seeing monsters." So goes a nonsensical exchange in the video The Night Epi$ode Pilot: Purgatorial Curatorial between artists Malik Gaines, playing a blind chief curator who works in the "sightless context" of sound and sculpture, and Jade Gordon, in the role of a "nightmare curator" who says she plans to wear a suicide bomb to an opening. Read more.


LA WEEKLY
Dance Witches Dance: Sculptural Comedy with My Barbarian by Christopher Miles
JANUARY 21, 2009




Fuck, yeah! That's a phrase I've never before used (and never much imagined I would) in an art review, but apparently there just hadn't been an exhibition for which such an affirmation could serve appropriately as both a kind of appraisal and a channeling of the show's attitude. Read more.


THE NEW YORKER
Critics Notebook: Second as Farce by Hilton Als
OCTOBER 13, 2008




The New Museum curator Eungie Joo has a nose for talent—particularly for performers who are more likely to comment on the "legitimate" theatre than to attend it. Just recently, she reintroduced New York audiences to My Barbarian, a performance collective based in Los Angeles. Read more.


OVATION TV
Inside Art: My Barbarian by Bettina Korek

Ovation TV's Bettina Korek takes a studio tour of My Barbarian - a Los Angeles based performance collective that was formed in 2000.